On 30th of April
It takes approximately 45 mins drive from Kathmandu to Anandaban leprosy hospital at Lele village, Lalitpur. On the way, there were buildings affected by the earthquake two years ago. The hospital location is a valley- hills with rice fields and streams. I found that the atmosphere in Lele village is cleaner than Kathmandu, Thamel. The urban area has dusty air, and quite a lot of people wear masks.
(On the way of the hospital) 
(Anandaban leprosy hospital, a Christian hopspital) 
(A view on the way from the training centre to the hospital - there are more than 200 steps to approach the hospital located at top of the hill.) 
I stay at hospital accommodation for two months - a twin-bed room with a shared bathroom. Although I expected vault toilets, they are equipped with water flash. I could not use hot shower on the first day. Since it is run by solar powered system, rainy days may not have adequate hot water.
The hospital has many departments: general & surgical ward, leprosy department (for females on ground floor, for males on second floor, and for patients with leprosy reaction on second floor), physiotherapy department, emergency room, outpatient department, operation theatre, research centre and training centre. The general & surgical ward and the emergency room are under the construction due to the earthquake. The emergency room (ER) is temporarily run at a tent during night from 4pm to 8pm. During daytime, the tent is used as a recording room. The hospital data are recorded with paper records as well as electric records for the case of disaster and a power cut. 
(Emergency room)
(A view from the female leprosy ward. Patients enjoy this scenery from the terrace. They wash their foot, clothes, and dishes by their own.)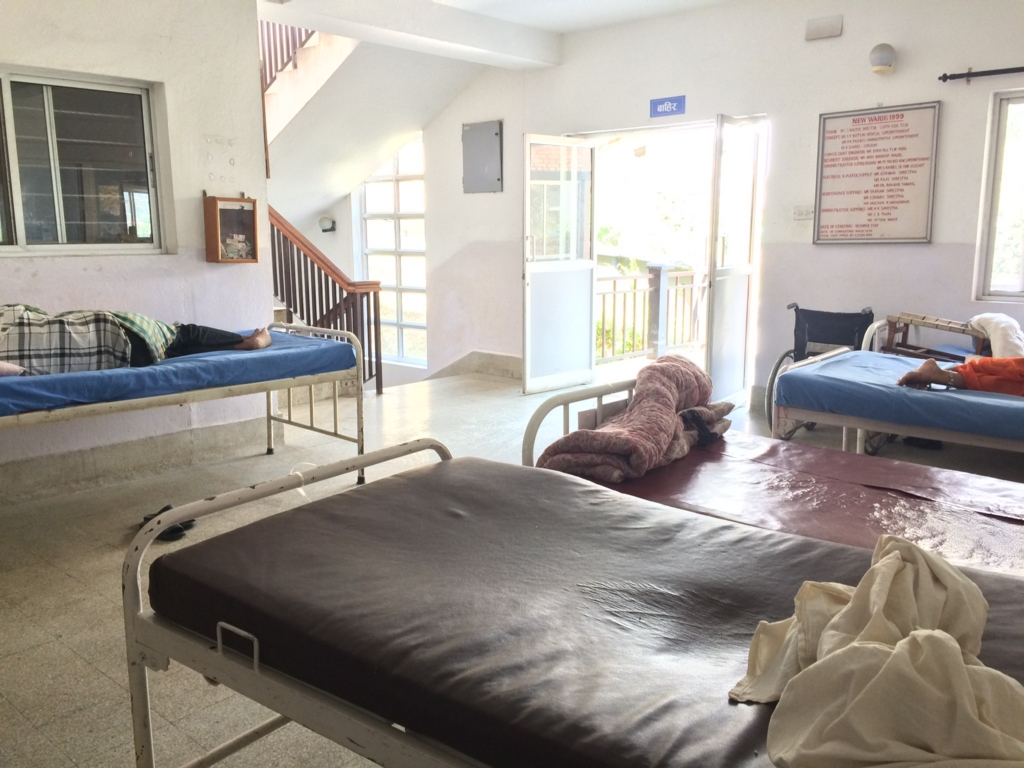 (Inside of the male leprosy ward. The corridor is also used as space for patients' beds since the hospital faces a lack of spaces for patients due to the earthquake.)  
(The end)